Shop from our great collection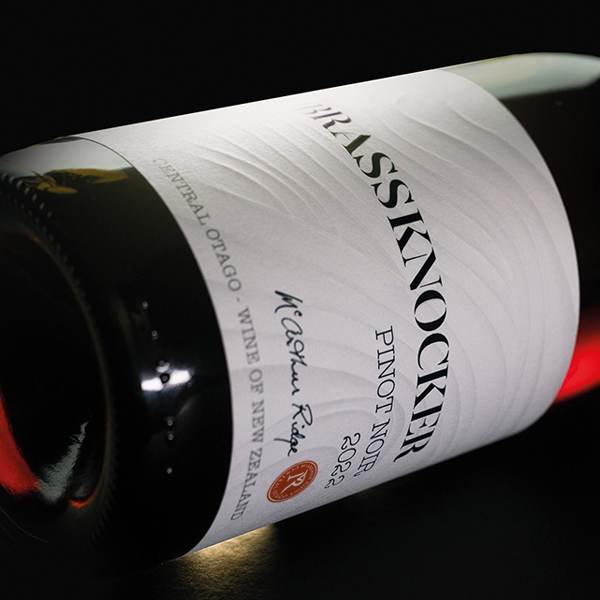 Brassknocker, a multiple award-winning Central Otago wine by McArthur Ridge is our Village level Pinot Noir, the name is inspired from the unique Brassknocker soils which the McArthur Ridge vineyard are planted in, sited on expansive ancient glacial moraine terraces in Alexandra, Central Otago.
Richly aromatic and complex, showing floral, ripe cherry, oak spice, and mocha notes on the nose. The palate is succulent with rich red berry notes and fine tannins. The wine is supported by fine acidity and finishes with a long and balanced persistency.
This wine over delivers on instant gratification and will reward careful cellaring for another 5-7 years.
Immerse yourself in the captivating allure of our Alexandra Collection—our  Premier Cru level of handcrafted wines that epitomises the essence of McArthur Ridge's winemaking mastery. 
Sourced exclusively from our esteemed estate vineyard, each wine in this distinguished range proudly champions the unique terroir of our beloved Central Otago wine region.
Every bottle within this exquisite collection tells a story of the land, showcasing the distinctive characteristics that make our estate vineyard so exceptional. With each sip, experience the harmonious marriage of terroir and craftsmanship—a symphony of flavors that unfolds with every nuanced detail.
The 'McArthur' is our Grand Cru Pinot Noir, inspired by James McArthur who arrived in the Waikerikeri Valley around 1870 and settled at the end of what is now known as McArthur Road in Strathclyde, on the outskirts of Alexandra.
At the time, this land was a desert until a source of pristine glacial fed water was found which enabled the McArthur dream to develop a vineyard recognised for its exceptional wines around the world.
Dark crimson in colour, this wine is brooding with a rich, bold, and powerful bouquet of savoury red berry fruit, aromas of sweet raspberries, framboise liqueur and sweet vanilla. Lush, juicy, and very appealing savoury tannins give the wine great texture.
Don't miss out. Signup to our wine club to receive a
10% discount on your orders.